UP YOUR GRASSROOTS GAME
i360 Walk offers real-time directions and streamlined data collection while optimizing routes for ultimate efficiency. i360 Walk utilizes fully-customizable surveys with dynamic scripting and ordering logic and provides household information for volunteers to survey any voter in the home. In addition to mobile canvassing, i360 Walk includes a voter lookup tool to tag and survey voters on the fly and an Event Check-In feature to organize events and track attendance.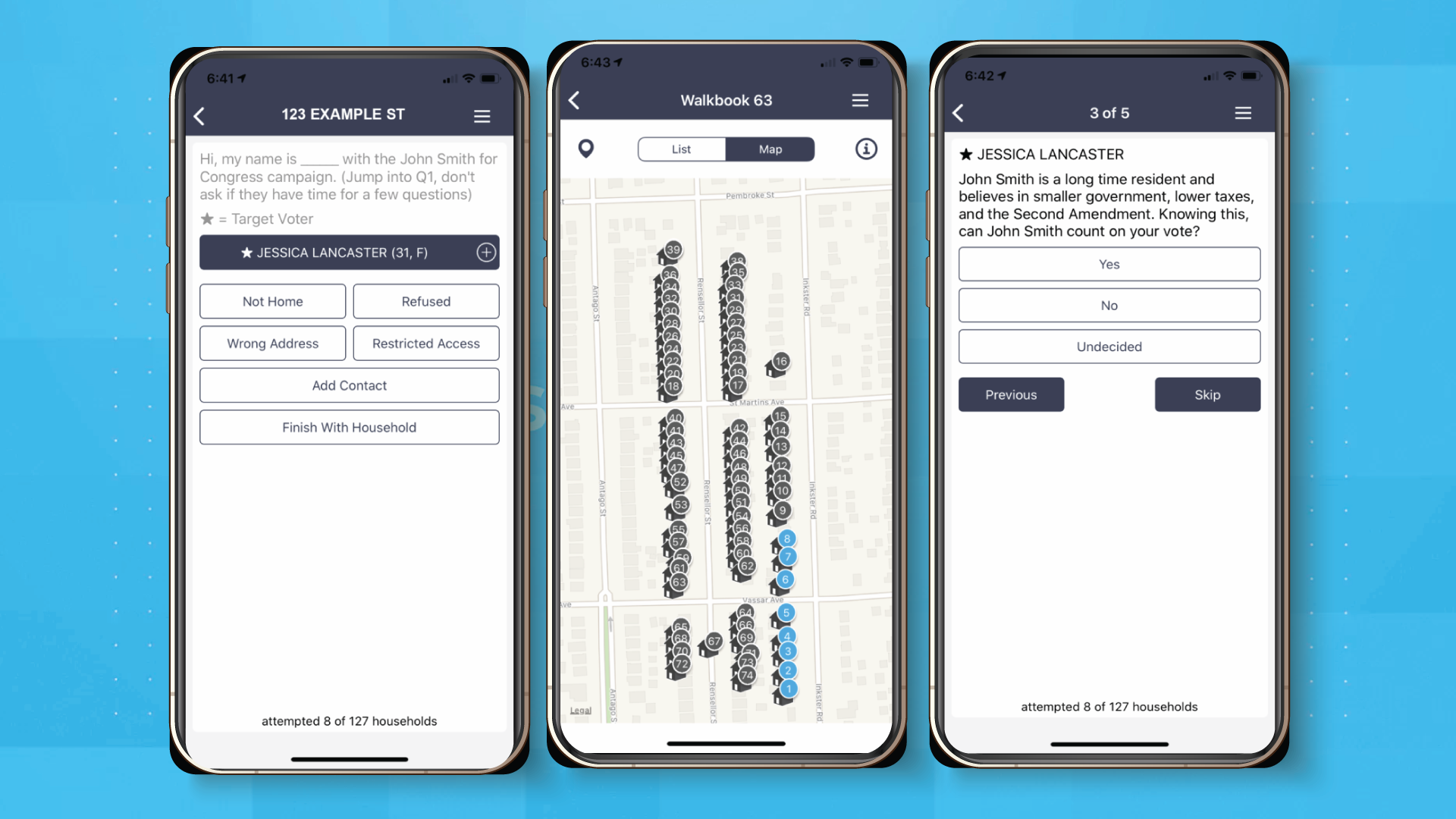 How does i360 Walk give you a competitive advantage?
Built with the latest technology and powered by i360's superior data the i360 Portal enables even novice users to identify, target, and reach the individuals they need, when they need to.
Always know what to say
You get the best results when you're talking about issues that matter to your voters. Thanks to our dynamic scripting functionality, your canvassers are prepared for anything. No matter who answers the door, your volunteers can greet them with a custom script written specifically for them.
Completely customize your script
Voters are tagged with responses automatically
Add notes & email addresses
All your data in one place
Like all of i360's grassroots tools, i360 Walk features seamless integration with our other products. That means any data collected by your volunteers in the field is automatically transferred to the i360 Portal for immediate reporting and analysis.
Breakdown your results by volunteer, coordinator, survey, and more
Visualize your results with dynamic charts
Prevent fraud with our AI-driven Performance Dashboard
Turn your data into results
Fully customize your script to collect the data you need. Branching logic allows you to ask follow-up questions based on the preceding answer.
You get the best results when you're talking about issues that matter to your voters. Deliver different scripts based on voter attributes – even within the same household.
Our advanced routing means your volunteers will be able to knock in the most efficient order, saving time and increasing results.
With integrated directions, your canvassers won't waste time navigating between targets. A satellite view helps volunteers know what to expect in unfamiliar neighborhoods.
Create as many volunteer accounts as you need so your supporters can access our grassroots tools.
Meet someone at an event that wants a yard sign? Use i360 Walk to lookup voters to tag, add notes, or create volunteer accounts on the spot.
New volunteers? No problem. Our in-app training guides will have them knocking on doors in no time.
Cell signal issues aren't an issue for i360 Walk. Progress is saved on the user's device and uploaded when cell signal is restored, making sure you don't lose any data.
""In my experience of having volunteers use other walk apps, there were many instances where I would lose volunteers for reasons such as the walk app crashing and all data getting lost. Because we had a late start and rapidly approaching primary and general election, we needed the most efficient system that would maximize our volunteer engagement and i360 was that system."

Brian Swensen

Deputy Campaign Manager, Marco Rubio for Senate
i360 VOTER & CONSUMER DATA
Reach the right audience every time